Stars Edge
Sidoci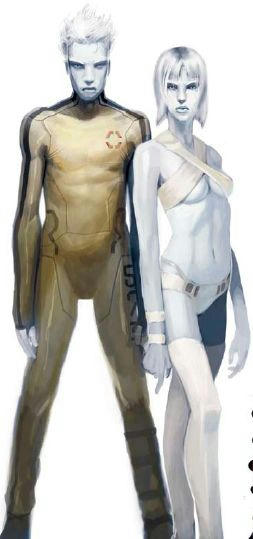 Unusual Human/Nazzari Halfbreed
Something strange happened when Humans started interbreeding with the Nazzari. Every so often, a xenomixed child would be born that was completely white. Not albino. Truly white. Snow white hair, skin, even eyes. While a normal xenomix is what scientists would expect from a Human/Nazzadi union, they were and still are at a loss to explain why these unusual children are born.
Whites, as they are commonly called, are different from other children. There is something innately otherworldly about them, besides the way they look. They are naturally para-psychic, many times from birth. And though they seem to have a firm and grounded view of the world, they always seem to be one step removed from it.
As one might expect, White xenomixes have difficulty fitting in anywhere. There are so few of them in the world, it is difficult for people to get used to them. While most people know somebody who knows one or sees one regularly, few have met one personally. Parents of Whites oftentimes have difficulty adjusting to their strange child and many are given up for adoption. What's worse is that the New Earth Government keeps a watchful eye on White xenomixes, something most families would rather not endure.